Let Us Quote Your Next Project
Call today to speak with us directly, we Look forward to hearing from you!
Engraving and Etching - This is where it all began and how we started at SMR Awards! If you can imagine it, we can permanently mark it. All our engraving and etching services are done in-house, and at unbeatable prices. We offer all available options that exist for etching and marking just about anything. We offer precision laser etching, machine engraving (rotary and diamond drag), sand blasting and sand carving, and even pantograph hand engraving. Etching and engraving services for industrial, commercial, residential, and personal needs. Call us today to ask questions and to get pricing! We also offer custom jewelry engraving to add that special touch to any piece.
---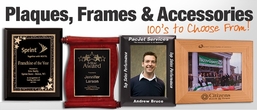 Plaques
- All of our plaques are made in house from scratch. We take tremendous pride in our quality control, and offering the best possible price. Plaques are ideal for corporate events, school tournaments, sales achievement, sporting events, family reunions, church banquets, and so much more. Custom logos, photo reproductions, and unique artistic layouts is just the beginning of what we can do for you. No per letter or per word engraving charges on any of our plaque items. Click to view our
Premier Corporate Collection catalog!
---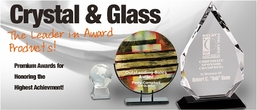 Crystal, Glass, and Acrylic Awards
- When you need a piece that truly stands out among the rest, SMR Awards is the place to be! Our crystal, glass, and acrylic pieces are either sand carved, or laser etched to produce a beautifully distinguished look. Choose from hundreds of in stock styles, or let us design a custom piece made just for you. We work in house here with optical crystal, clear or jade glass, and clear or colored acrylics. Most of our pieces come in a velour lined presentation box as well. Make sure to check out our full line of art glass for something totally new and unique. No per letter or per word engraving charges on any of our crystal, glass, or acrylic items. Click to view our
Premier Crystal & Glass catalog
or the
Premier Acrylic Awards catalog!
---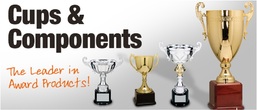 Trophies
& Trophy Cups
- Custom made to fit your needs and style. Great for sporting events, employee recognition, and personal achievements. SMR Awards is your one stop shop for trophies and trophy cups. Choose from hundreds of color combinations, figures, holders, risers, finishes, and styles. We also carry a huge selection of sculptured resin trophies as well. All engraving is included, no per letter or per word engraving charges on any of our trophy items. Click to view our
Premier Sport & Academic Awards catalog!
---
Medals/Medallions
- A great economical and cost effective way to award any type of achievement. You will not find a better price anywhere for custom, and/or standard in stock medals. We have a huge selection of ready made medallions for every occasion. Academics, sports, art, drama, dance, music, general achievement, occupational, military, and government. We also produce beautiful custom medals and medallions with your logo, or custom artwork. Die struck and die cast in bronze, iron, and zinc. Custom medals can be 2 dimensional or 3 dimensional, epoxy color filled, and various thickness. All medals can be awarded with neck chains, neck ribbons, or pin back drape ribbons. Call us today for more information. No per letter or per word engraving charges on any of our medals/medallions. Click to view our
Premier Sport & Academic Awards catalog!
---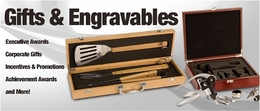 Promotional Items
- SMR Awards the right place if you are looking for promotional products for your business or organization. We have thousands of items to choose from for your marketing needs. Your company logo on one of our products is always a memorable way to market your company. Promoting a business is about reaching out to potential clients and new customers. To purchase hundreds or thousands of items at a time, you need to find high quality, yet inexpensive products from a company that offers exceptional service. We deliver our promotional items on time, and have the lowest prices. Our product line of promotional items includes but is not limited to... t-shirts, aprons, jackets, visors, caps, hats, buttons, lapel pins, magnets, stickers, duffel bags, plastic bags, tote bags, gift bags, backpacks, desk clocks, wall clocks, key chains, ice scrapers, USB drives, calculators, watches, various computer accessories, flash drives, mouse pads, corporate gifts, promotional desktop items, food and drink, games, toys, note pads, journals, golf products, kitchen and home, mugs, drink ware, sport bottles, water bottles, bottle openers, flashlights, seat cushions, luggage tags, golf balls, various promotional business supplies, pens, pencils, highlighters, tools, and travel items. Our business is promoting your business. Call or
email
us today to learn more!
---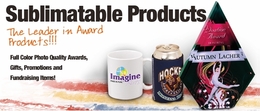 Dye Sublimation
- Dye sublimation is, first and foremost, one of the most versatile digital decoration technologies available today. SMR Awards can decorate a variety of products including apparel, awards, trophies, plaques, promotional items, gift products, signage, household items, recognition products, glass, acrylics, and so much more. Diversity to produce custom short-run items, and at an affordable price is one of dye sublimation's biggest advantages. Maybe you're just looking for one or two custom t-shirts, mugs, laptop cases, mouse pads, etc. Let us show you all the products dye sublimation is available for. Using your full color photo's, images, or artwork on a variety of products and substrates is what makes dye sublimation so great! Please click to view our
Premier Custom Color catalog!
---

Architectural Signage
- SMR Awards manufactures a wide range of signage products used by a variety of industries and businesses. Interior and exterior signage for U.S. government agencies, universities, hospitals, libraries, office buildings, and hotels. Compliance with all ADA regulations is a priority. We can produce brand new signs to current standards, or in many cases even retrofit old signs for updated compliance. Whether you need one sign or an entire signage system,
contact
SMR Awards today. We are your custom sign company!
---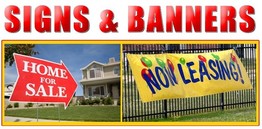 Signs and Banners - Full color small to large format digital printing for vinyl banners, mesh banners, fabric banners (flags, table cloths, etc.), banner stands, and all sorts of various vinyl signage. Make your message loud and clear with custom signage from SMR Awards. Draw attention with indoor and outdoor banners for sales, events, parties, and so much more. Broadcast your organization, candidate, event, or party with eye-catching yard signs. Lightweight plastic signs, car door magnets, window decals, posters, and even bumper stickers all offered at the lowest possible prices. Your one stop custom sign shop at SMR Awards!
---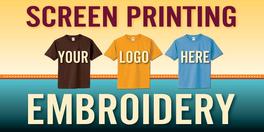 Screen Printing and Embroidery
- We offer quality custom screen printed and embroidered apparel at wholesale prices. At SMR Awards, we can screen print or embroider on just about anything. We also offer Direct-to-garment printing as well. No design is too detailed for direct-to-garment printing, so let your imagination run wild. From one piece orders to bulk quantities, we've got you covered. T-shirts, sweatshirts, jackets, caps, team wear, corporate wear, bags, aprons, and work wear. Click to view our
Sportswear Collection catalog.
Please feel free to give us a call, and let us quote your job today!
---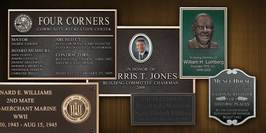 Cast Bronze and Aluminum Plaques
- Memorials and dedications that are sand cast, and poured in bronze or aluminum. These castings are made to last a lifetime, and to give a sense of permanency. Recommended for building dedications, grave stones, garden markers, flagpole dedications, street identifiers, and address plates. Visit our
"Dedications & Memorials"
page for more info, and to view photos.
---
a fresh idea & more... SMR Awards
Chicagoland's Premier Award and Recognition Company!

shane@smrawards.com
708-323-5433